Published December 14, 2011 by Tzvi Shapiro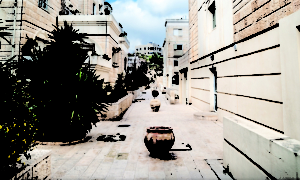 The global economic crisis of recent years is leaving its mark on the Jerusalem real estate market in more ways than one.
Foreign buyers are taking more time to buy into the property market, but they are still here and want to find their "home" in the "Jerusalem of Gold", while local purchasers appear to be benefiting from the weak US currency.
Despite this, current demand for apartments and houses in Jerusalem remains very strong. The Jerusalem Real Estate market is far more complex than other cities in the country due to the strong interest from foreign buyers, so some of the projections about future prices take much more analysis.
For now, the demand remains strong.
Lots of Israeli & foreign buyers
The housing market in Jerusalem is usually very busy during the holiday and Hagim seasons and this past year was no exception. With many Jewish buyers from all around the world traveling to Jerusalem during these periods of the year, "home hunting" is still on their schedule.
New clients are also emerging, just getting their feet wet in a foreign market, and they will undoubtedly be returning on future visits to choose a residence, after having had the time to absorb and process the information given to them. The buyers are now both Israeli and foreign, and there are certainly a lot of them.
While prices are more or less stable at the moment, mortgages are still being offered at very attractive conditions and there are nice deals to be made. For buyers looking for a good opportunity, there are certainly deals to be had by working with an established and professional realtor who has been in the business for a long time, understands the neighborhoods and trends, and can also understand the client's specific needs.
As far as trends go, Baka and Old Katamon are quickly approaching Talbieh, Rechavia and the German Colony in terms of price-range, yet San Simon is a gem on the rise, where one can still find affordable housing which has already been rising in value.
A good realtor's ability to take such trends into account, while fully understanding the client's needs, is an asset for any potential buyer to work with.
Some Jewish Orthodox neighborhoods are sky-rocketing
Some typically Jewish Orthodox neighborhoods are sky-rocketing as Shaare Hessed, where prices are among the highest in the City. Even the neighborhood of Musrara, which until recently has been considered the slums, is attracting many American Jews due to its proximity to the center of town and The Wailing Wall, and prices there are escalating as well.
In fact, all the neighborhoods desirable to foreigners are within a thirty to forty minute walk to The Wailing Wall. Therefore, anyone who purchases property in the central locations of Jerusalem can rest assured that they invested their money safely.
Another worthwhile buying option is to join a purchase group. There is power in numbers, and the savings are in time invested. If you've got time on your side, buying into a project 'on paper' is a fabulous way to save money and to make a good profit if you sell it after it's built.
Government regulations have made this an extremely safe venture and payments are made in increments so that you need not worry about a huge financial outlay up-front.
Another outcome of the current economic situation is that the market in Jerusalem and generally in Israel has become far more attractive as an investment platform, because the return on a property investment is significantly higher than savings in banks or other traditional methods, and does not entail the risk of stock market fluctuations.
Unaffected by the world economy
To summarize, the Jerusalem real estate market seems to remain unaffected by the world economic and real estate crisis of recent years.
Because it is predominantly a sellers' market, and the Shekel is gaining strength in relation to the US Dollar, as well as the fact that demand is higher than supply, prices remain high, and new areas of the city are becoming desirable for investment.
Rising real estate prices in any city is typically a symptom of a growing economy, higher salaries and most of all, an optimistic attitude of the population. People purchase homes when they believe in the future prosperity of the city. The ongoing enthusiasm in real estate purchases in the world's holiest city, Jerusalem, indicates this clearly.
While various push factors may be causing more and more foreigners, Americans and Europeans in particular, to look for alternative housing possibilities, Jerusalem's pull factor, both spiritually as well as financially, remains strong.
This article was contributed by Deborah Touitou, CEO T&T Investments and Real Estate. For more information on how you can invest in property in Jerusalem contact Deborah at T&T Investments: deborah@tandtrealestate.co.il 
Related: Current Interest Rates in Israel & First Israel's Mortgage Services.