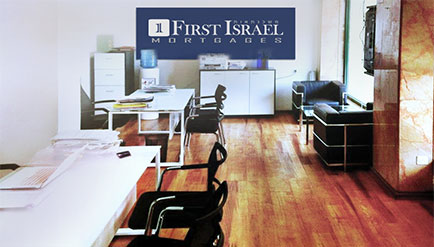 First Israel's Mortgage Services
Whether you are looking to take out a new mortgage in Israel or refinance an existing mortgage, First Israel's team ensures that you are taking out the right mortgage at the lowest rate.
Click on a link below to gain insight on all you need to know on the most common types of mortgages as well as how the process works.
Just click on the blue links below to head straight to the section that is most relevant for you.
– Mortgage to purchase a home in Israel.
– Refinance a mortgage in Israel.
– Reverse mortgages in Israel.
– The mortgage process in Israel.
Contact Us
Prefer to speak to a Mortgage Consultant?
Call Sun – Thurs 9am-9pm IST
Contact Us
Frequently Asked Questions: Mortgage services
Mortgage Services
Israeli citizens are able to obtain up to 75% financing on a purchase property (if it is their sole property) and up to 50% financing on an existing property. Non-Israeli citizens are currently limited to 50% financing.
Obtaining financing for the purchase of a home in some areas of Israel can be difficult. First Israel is proud to be able to provide financing throughout Israel.
First Israel will objectively analyze your current mortgage, current financial situation, and long term financial goals to determine if a refinance makes sense for you. We believe that homeowners have a right to know their options and we look to empower our clients to take advantage of opportunities in the mortgage market.
Residential financing for non-Israeli citizens is limited to 50% LTV (loan-to-value) + up to 15% as an unsecured loan (at higher rates). Israeli citizens are able to borrow up to 75% conditional upon it being their only property in Israel. Residential financing products provide for the lowest rates as well as providing for fixed interest rate options.
Commercial financing allows for up to 70% LTV (loan-to-value). In order to qualify for commercial financing, the property must either be purchased in the name of a company or the primary borrower must qualify as a real estate investor (someone who owns more than three properties). Commercial financing structures, while allowing for greater financing in some instances, have higher rates, shorter terms, and only variable rate structures.
Recent Posts
First Israel Mortgages: Israel's
#1

Mortgage Brokerage 5 Years Running

With over 1,000+ customers and counting, First Israel Mortgages is Israel's most trusted brokerage.
Why Choose First Israel Mortgages?
Guaranteed lowest interest rates on the market

Exceptional service from start to finish

Online with all of the lenders in Israel

Processing of all mortgage documents and registrations

Expert consultation and advice ensuring proper loan structure
I have been working with First Israel Mortgages for the past several years. They have represented many of my clients as well as me personally in handling both mortgage financing and re-financing. Their professionalism, efficiency, ability to problem solve and find the best rates and mortgage packages that suit their client's financial needs and abilities is unequalled. Chaim Friedman and Tzvi Shapiro, the principals of the Company, are accessible at what seems like all hours of the day to handle client requests and their staff of quality mortgage brokers and clerks are unbelievable. The above is merely a drop in the bucket as to the scope and quality of services provided by First Israel, hence I give my warm recommendation to their firm and to anyone looking for high quality mortgage brokerage services.